A Day in Emily's Life
Since April 12, the day of the surgery, Emily's life has revolved around her bed. According to the neonatologist that interviewed us in Vanderbilt, the only proven way of decreasing the chances of premature labor after fetal surgery is to "stay off your feet." We certainly agree.
Besides eating and accomplishing other necessary tasks for the maintenance of life, Emily wears a fetal monitor twice a day for one hour each time. The information is sent electronically to Matria monitoring headquarters in Knoxville, Tennessee. They call her right away with a report regarding her uterine activity, including number of contractions and uterus irritability, and instruct her regarding any chances in medication dosage.
Emily receives a constant delivery of "anti contraction" medication (terbutiline) through a pump hooked to one of her thighs. Her daily activities also include changing the syringe in the pump every twelve hours.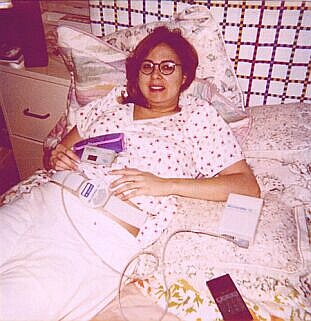 This is Emily wearing the fetal monitor. The little rectangular box by the purple purse is the tributiline pump.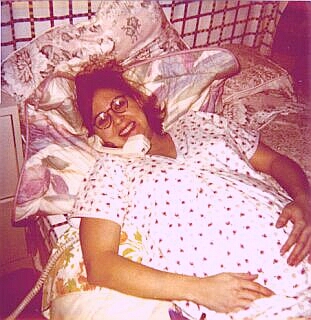 Emily also enjoys talking on the phone while "confined" to bedrest.

Of course, once in a while she uses her bed for one of it intended uses.